Newsletter May 2006 by Paul Kronenberg



Dear friends and supporters of Braille Without Borders,

We hope that all of you are doing well and that you are enjoying the springtime!
Here some news about the BWB projects.





SHIGATSE: Dairy farm



Sabriye and i are back in Tibet and we just spent 5 days in the farm in Shigatse.

There we started with the construction of so called "Ecosan" toilets. In these toilets the faeces and the urine are collected seperately so the faeces can ferment much quicker and can be used as compost. More information on this concept can be found at http://www.ecosanres.org/
This summer we will also set up a small compostfactory.



Mother and daughter "Pelgye" Use of solar energy in the main courtyard of the farm




Over the past few weeks all fields have been worked and prepared for the new season. A German animal husbandry specialist trained our local staff and some students in special feeding programmes, milking and manure handling. The main focus of the training is aimed at a "Dairy farm". This means that the cropproduction is adapted to the needs of the fodder for the cows so better quality milk can be produced. Because of the change of the cows' feeding program the amount of milk the cows give improved considerably. Because of this the cheeseproduction which started last autumn is slowly getting bigger and better. At the moment we are selling the cheese in and around Lhasa. A friend of ours from Shanghai wants to help us to market the cheese in the mainland of China. We hope that the sales of the cheese will help us to generate income so at least part of the running costs can be covered.

The old stables have been renovated and last week a calf was born. A student of us named her "Pegye" which means "growth" and "opportunity".

This summer the handicraft program will be extended with training in making soap and candles. At the moment several students are being trained in knitting and carpetweaving.




LHASA:



In Lhasa the medical massage clinic is running well. It is completely managed and ran by the students who graduated from the BWB medical massage and physiotherapy training. 5 new blind students are being trained in their clinic.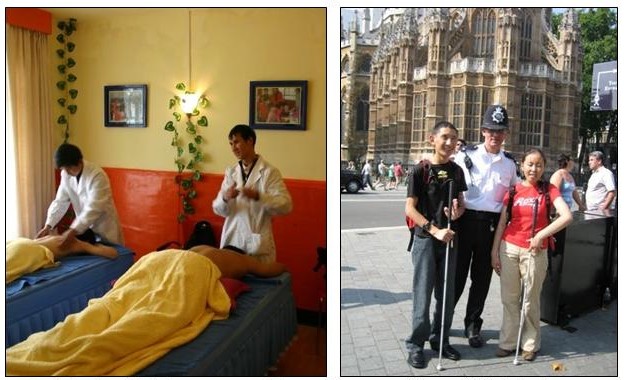 Graduates at work in their own massage clinic Nyima and Kyila in London



Eight blind students already attend regular schools. At the moment 6 more blind students prepare to integrate themselves into the regular elementary school in Pelshong. They will live in the farm and go to the school which is situated right next door. In the future we hope to realize that more and more regular schools will receive blind students. The concept of self-integration works out well. The students have built up enough selfconfidence and as long as the teacher reads out aloud what he/she writes on the blackboard they can follow the classes smoothly. They take notes with their Braille-typewriters or Braille-slates.

The staff and students in Lhasa are now fully trained so they are able to produce books in Tibetan, Chinese or English Braille.

In total 88 students have benefitted from the BWB program directly. Indirectly a change in the society has taken place in the way blindness is seen. In the media the blind students are introduced as happy, motivated and smart students. Now the society realizes that a blind person can live a quality life.

Two of our students, Kyila and Nyima, are still studying in Totnes in England. Right now Kyila is preparing for a Cambridge Certificate test. At the end of July they will both return to Tibet. Nyima will start his work as an English teacher and Kyila will be trained to work in the management of the project.



KERALA



In March and the beginning of April we were in Kerala. There we prepared all the paperwork, designs and agreements so the construction of the "International School for Development and Projectplanning" (ISDeP) could start. In this ISDeP centre, Braille Without Borders will train blind and visually impaired people who are motivated to start social projects in their own regions or countries. BWB will select those people with the right initiative, motivation and skills required to fight poverty and create opportunities for the disadvantaged. The students will receive training by highly qualified and motivated teachers.



The planned school campus with dormitory building, classroomblock, dining hall and guesthouse




Over a one year's course these students will be trained in fundraising, PR activities, management, project planning, computer technology and English/communication skills.
The students will then be able to set up their own schools for the blind or visually impaired, improve existing ones or start other social projects in their own countries/regions.
More info on the ISDeP centre can be found here

The centre will be situated on the edge of a freshwater lake app. 10 Km away from the centre of Trivandrum, the capitol of Kerala state. It is going to be built in an ecological style and we will install a rainwaterharvestsystem, a biogasinstallation and we will make use of solar and if possible also windenergy. There are two plots of land. One will hold the school campus, the other an administration building and staffquarters.

In Trivandrum we hired a local supervisor to monitor the construction activities. We also found a future managing director. She is from Kerala, speaks fluent Hindi, Malayalam, English and German. She has a Masters degree in business and is very motivated to realize opportunities for blind and visually impaired people worldwide.



SEVERAL:



This year has been and will be pretty busy. In the beginning of June we have been invited to join the 45th annual International Achievement Summit in Los Angeles.
Afterwards we will return to Tibet. In the middle of June, I will return to Kerala to check on the construction activities. Sabriye will stay in Tibet to work on the curricula of the school and farm project. We will meet up in Bangkok in the beginning of July to go to Australia where we have been invited to present our work to a potential sponsor.
In mid July we will present the BWB philosophy as controversial speakers at a conference of the ICEVI (International Council for Education of People with visual impairment) in Kuala Lumpur.
We will be back in Tibet in August.

Thanks to our motivated and hard working staff we are able to travel between projects. They identify themselves very much with the project and take responsibility for the work.











Sabriye finished her new book:
"Das siebte Jahr - Von Tibet nach Indien"
(The seventh year - From Tibet to India"
ISBN: 3-462-03691-2
Publisher: Kiepenheuer & Witsch
It will be published in August 2006.
We hope that translations in several languages will be available later in 2006 or early 2007.








Again we would like to say thank you to all those who have supported the BWB projects.
Thanks to you we have been and are able to give blind people a chance to a better life!


Yours sincerely,

Paul Kronenberg
PS also from Sabriye Tenberken
More Information www.braillewithoutborders.org




All Contents Copyright ę2005 Braille Without Borders All Rights Reserved.
Web site sponsored by National Importers Inc.
Web Design sponsored by Summa Systems Ltd.